The Sabin Vaccine Institute is a leading advocate for expanding vaccine access and uptake globally, advancing vaccine research and development, and amplifying vaccine knowledge and innovation. Unlocking the potential of vaccines through partnership, Sabin has built a robust ecosystem of funders, innovators, implementers, practitioners, policy makers and public stakeholders to advance its vision of a future free from preventable diseases.
Our mission is to make vaccines more accessible, enable innovation and expand immunization across the globe. We deliver sustainable, evidence-based solutions that extend the benefits of immunization to everyone, everywhere.
Vaccine Acceptance & Demand
(VAD)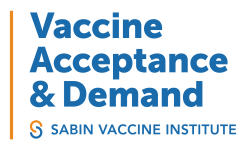 Sabin's VAD initiative engages in multi-faceted programming with the singular aim of increasing the acceptance and uptake of vaccines and immunization among communities in low- and middle-income countries. We invest in research to explore the social and behavioral dynamics of vaccine acceptance, including the evaluation of community-based and social media interventions designed to address vaccine acceptance and demand barriers. Sabin brings together communities of social science researchers and thought-leaders, global health experts, and other stakeholders to share and disseminate knowledge. The VAD initiative supports the development of immunization advocates. We engage the close-to-community health workforce with educational and networking resources designed to strengthen their communication and storytelling skills to inform and build vaccine acceptance in their communities. We connect journalists to health experts to enable accurate and compelling reporting on immunization.
By exploring the complexities of vaccine acceptance through the lens of social and behavioral science and equity, the VAD initiative seeks to advance programs, policies, and practices that are responsive to the varied needs of people and communities, from design to implementation. 
Vaccination Acceptance Research Network
(VARN)

The VARN seeks to drive the application and advancement of social and behavioral science insights and expertise to the challenges and opportunities facing vaccination decisionmakers, planners, and implementers. VARN is creating a space for real-time, knowledge-driven dialogue among multidisciplinary stakeholders in academic research, policy, non-governmental organizations, global public health and the private sector. The network is uniting global and local knowledge to shape an interdisciplinary research agenda and support evidence-informed policies and programs.