Certificate of Attendance
A digital Certificate of Attendance may be requested by emailing: vaccineacceptance@sabin.org after the conclusion of the meeting. 
How can I access the conference site?
The conference site requires registration which can be completed by clicking here.  Once registered you will receive an email with your login password.   At the login screen enter your email as your user name and the password you were provided.  You can choose REMEMBER ME to bypass the login screen the next time you access the site.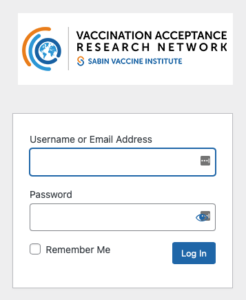 Where do I view the live stream?
Once you are logged into the site select MAIN STAGE.   This will take you to the live stream.  If the stream is currently live you will see the live indicator in the bottom left corner and you will be automatically connected.  If you are not automatically connected you will see a PLAY button which will launch the live stream.
How can I improve the quality of the live streaming video?
Video quality is a tradeoff between bandwidth and video resolution.  When the stream is live our server monitors each individual connection, estimates the maximum bandwidth, and delivers the highest resolution supported by that bandwidth.  Users can select the gear icon at the bottom right to manually select a higher resolution stream.  This will generally produce a better viewing experience.  If the stream becomes choppy, select a lower resolution stream.

How does language interpretation work?
The live stream will be interpreted into Arabic, French, Portuguese, and Spanish.  To hear the live feed in one of these languages click the button below the live stream window.  You will be directed away from the conference web site.  Don't worry, this is normal.  Language interpretation is provided using the Zoom interface.

You will be taken to a Zoom meeting where you can click the globe icon in the Zoom application toolbar to select your language.  For best results check the MUTE ORIGINAL AUDIO selection box.
How do I chat with other attendees?
The Chat/Question widget is located below the live stream window.  To join enter your name and accept the Terms of Service and Privacy Policy.  To chat TYPE A MESSAGE in the box field and select the up arrow to the right to send.
How do I ask a question?
The Chat/Question widget is located below the live stream window.  To join enter your name and accept the Terms of Service and Privacy Policy.  To ask a question click the ASK button in the bottom right corner of the widget.   This will open the question interface where you can TYPE YOUR QUESTION HERE.  Select the up arrow to the right to submit your question.
Questions can be up voted by selecting the thumbs up icon to the right of the question.  Popular questions can be seen by switching from RECENT to POPULAR.
To exit the question interface and return to chat click the X in the upper right corner.
What if I need additional help?
For additional support please submit the form below.  This form is monitored in real-time before, during, and after the live stream.